The central valley of Oaxaca is a mountain highland encompassing 3,375 square kilometers (1,303 square miles), at an elevation of approximately 1,550 meters (5,115 feet).
A central ridge system defines the valley as three separate, smaller valleys: the Tlacolula Valley, extending 50 km east; the Etla Valley, reaching 40 km north; and the Zimatlan Valley, which stretches a full 100 km south to Miahuatlan, where the land rises before dropping to the lowlands of the Isthmus of Tehuantepec.
The desirable agrigultural land of the valley bottoms covers approximately 1100 square kilometers (700 square miles), and it is not surprising that this is where the earliest settlements are found.
The Geography of the Oaxaca Valley may be explored using any of the maps or articles on this page. The archaeological sites of Monte Alban, Mitla and Dainzu may also be explored through articles, color photographs, and site plans.


Teotitlan del Valle
The weaving tradition in Teotitlan del Valle goes back to pre-Hispanic times. Teotitlan even had to pay tribute to the Aztecs in the form of cloth. Today, in the mercado de artesanias in the center of the village, the full variety of tapetes and sarapes are on display. Not all of the designs are traditional; woven versions of Miro, Picasso, and even Escher are available.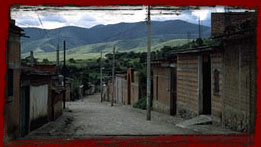 The map of Mexico shows the area in which the
Zapotec rugs are woven; the village of Teotitlan del
Valle is located in the Oaxaca Valley.

Oaxaca Valley


View a map of the Oaxaca Valley showing the areas of early Zapotec occupation, as well as the weaving village of Teotitlan.